P3-Joist
Sales Contact
North American Buyers
1-844-702-2860
wclsales@staging.dev.interfor.com
International Buyers
(604) 422-3468
exportsales@staging.dev.interfor.com
Product Certification
Product Details
User Guide
Installation Guide
Warranty
Product Description
A HIGH-PERFORMANCE ALTERNATIVE
EACOM produces high-quality joist products for both residential and commercial floor and roof projects.
Our P3 Joists™ conform to the APA's performance standards. We rigorously verify and test our products
to ensure that they perform predictably and safely. Simple to specify. Easy to install. Less confusion.
The P3 Joist™ is an "I"-shaped engineered wood structural member designed for use in residential and
commercial floor and roof construction.
P3 Joists™ are prefabricated using SPF MSR lumber flanges and OSB web, which are bonded together
with exterior-type adhesives. P3 Joists™ are limited to a L/480 maximum live load deflection for
residential and non-residential floor applications.
P3 Joists™ are identified by their depth followed by their series name PJI, and by a designation such as
40 which relates to the joist strength and stiffness. Our P3 Joists™ are manufactured to strict tolerances
with the following characteristics.
All our P3 Joists™ are manufactured in conformance with ASTM D5055.
PRODUCT SPECIFICATIONS
Flanges are MSR 2×3's and 2×4's.
Webs are OSB, and all are classified as Exposure 1 or Exterior and are 3/8" in thickness or greater.
All P3 Joist are assembled using exterior
type adhesives that meet ASTM D 2559 and ASTM D 7247.
P3 Joist™ are available in eight depths: 9-1/2", 11-7/8", 14", 16", 18", 20", 22" and 24".
P3 Joist™ of the same depth are manufactured with various flange widths; flange width is an important
design consideration when specifying hangers.
P3 Joist™ are manufactured up to 64' in length. These lengths are cut to commonly used lengths such as
16' to 36' in 2' increments for jobsite delivery. Check local supplier for availability.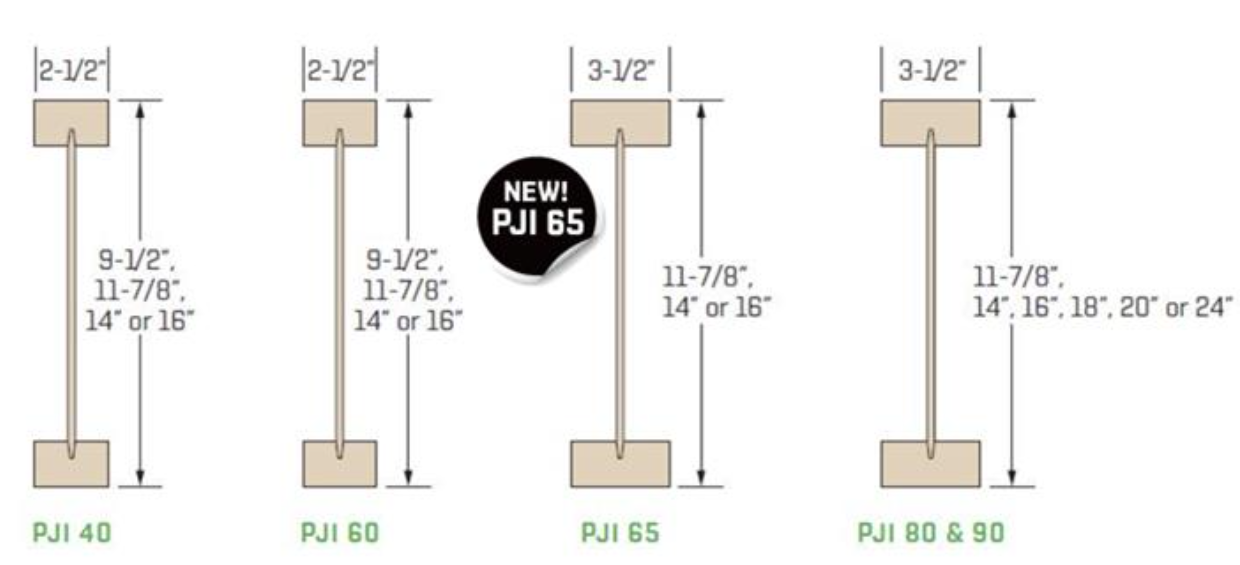 Where It's Made